Laser Skin Resurfacing – Dermatologists in San Diego, CA
Our primary concern is for the health, safety, and comfort you feel in your own skin, which is why we offer the best, most innovative dermatology options in the industry. Our highly trained and experienced dermatologists in San Diego provide CoolBeam laser skin resurfacing and Coolaser skin resurfacing in our state-of-the-art facility in San Diego, CA. Fraxel laser skin resurfacing is an outstanding solution designed for clients who wish to safely diminish the appearance of fine lines, wrinkles, scars, or sun damage on the face. We perform laser skin resurfacing on an individualized basis in a manner tailored to specific needs. We're happy to answer your questions about laser skin resurfacing. Call
(858) 292-7525
for same-day appointments.
It Works
Our cosmetic laser skin resurfacing treatment gently removes skin imperfections, revealing fresh and revitalized skin. By guiding the laser over the skin tissue, we can minimize wrinkles and gently remove sun damaged, aging skin, layer by layer. The precise and controlled output of low-powered light from the laser ensures that surrounding tissues are not damaged. This fine control also offers you a safer and more predictable treatment with minimal bleeding, bruising, and swelling, thus lessening the risk of complications. The procedure typically takes anywhere from 30 minutes to 2 hours, depending on the areas treated. The depth and type of wrinkles or scars will determine the number of sessions required to attain optimal results. Skin pigmentation, age, medical history and, and desired results are all factors your dermatologist will consider when determining if laser skin resurfacing treatment is right for you. In addition, our team will consider other important factors, such as a history of dermabrasion treatment, prior chemical peels, existing viral infections, and problems with healing to determine whether or not you're a candidate for a laser skin resurfacing facial. Laser skin resurfacing is an excellent solution for acne scars, dark age spots, laugh lines, and simply rejuvenating sun-damaged skin. Contact us today for more information at
(858) 292-7525
!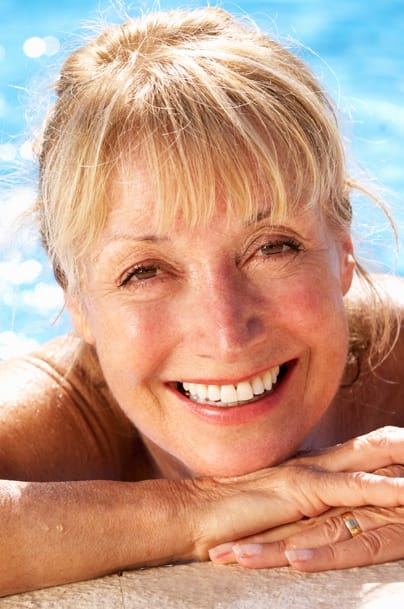 Patients typically experience a brief recovery period after skin resurfacing, including a post-operative skin care program established to help you maintain a moist healing area. The treated area will be red immediately following surgery, but redness will fade over the course of a few weeks and can safely be concealed with make-up. Avoiding excessive sun exposure for several months following treatment will lessen your chances of pigmentation problems during the healing process. Daily use of sunscreen will protect against damaging ultraviolet rays.
Laser-Skin Resurfacing: Reveal a Fresher, Smoother You!
Diminish Laugh and Frown Lines
Soften Eye and Mouth Wrinkles
Rejuvenate Sun Damaged Skin
Minimize Acne Scarring
To determine if fractional laser skin resurfacing is the right choice for you, call and
schedule a consultation today
.
As time passes, facial skin begins to show the visible effects of aging. Wrinkles appear around the eyes, lines deepen in the forehead and mouth areas, and your facial appearance starts to show the signs of lifelong exposure to sunlight, stress, pollution and time.
Today, using the most advanced laser technology available, we are able to help reverse these damaging effects and restore vitality to the delicate skin of your face.

Copyright © 2021. All Rights Reserved.
Top Dermatology Specialities